SELF-LOVE EXPERIENCE
Boudoir Sessions are one of the most valuable experiences of a woman's life. At at least one point in time, you need to be captured looking and feeling your best. This is why we have a professional hair, and makeup artist enhance your features, pamper you, and make you feel sexy. My boudoir sessions are designed to show you just how gorgeous you really are. Sometimes we don't see it ourselves, and it takes an outsider to persuade us! (Speaking from experience here) Below you will find my boudoir pricing guide with the basic info you need to book your session! I can't wait to hear from you. xo- Diana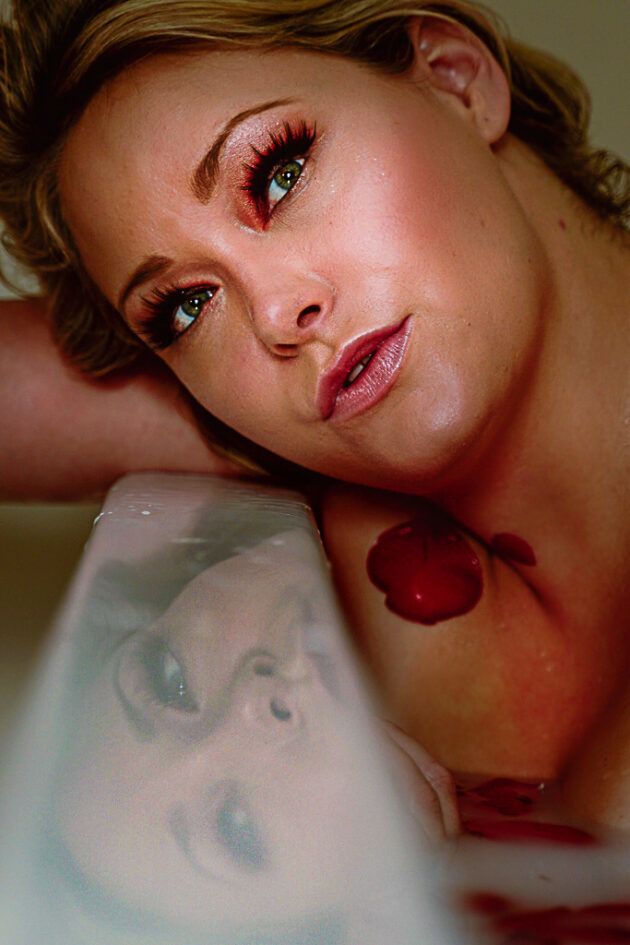 Have questions about your Boudoir Session? Look below for my FAQ's.
Frequently Asked Boudoir Questions
I'm single, can I still do Boudoir?
Yas Queen. The majority of the ladies I shoot are SINGLE just like you. You don't have to have a partner to feel sexy or validated. YOU ARE ENOUGH. This is a self-love experience that will leave you feeling empowered and sexy AF. Besides, wouldn't some hot photos be a nice thirst trap for your dating app?
Where do we shoot it?
Wherever you want! I have studio space that I can rent out for that closed set experience. Your own house could be as cozy as it gets. Hotels? Why not? We can find a sexy hotel to shoot in. Your friend's house, because why not? The point is you are the subject, and the focus will be you and your body. We don't need a lot of room or even a bed to make that happen. Personally, I LOVE bathtub sessions.
Is hair and makeup included in the price?
Yes! I work with a few different stylists here in Jackson. For bridals, I use Tanya Crocker. The cost of your Glow-Up is factored into the session price.
What's a Boudoir Film and why would I add it?
Boudoir photos are sexy, but Boudoir Films are insane. A Boudoir Film is a 1-5 minute edit of you posing in your multiple outfits. The Boudoir Film is the NEXT LEVEL of Boudoir Sessions. This is the ultimate treat-yo-self, luxury experience. You want to blow his or her mind? Add a film to your session.
Can I bring my own hair and makeup stylist?
Yes, but of course you'll be getting a better deal when it's booked through me.
Are photos included in the Session price?
No, they are priced separately from the session price. Below you'll find my Boudoir Pricing guide. Here you can get an idea of how much it will cost for digital downloads, albums, and prints! On average women spend $1,700-$2,400 on Boudoir Sessions.
Do you provide clothes?
Nope, I've only just launched this section of Backlight Creative. Since I do not have a personal studio space it does not make sense for me to house wardrobe...yet!
What do I wear?
Whatever is going to make you the MOST comfortable. If you're not feeling like you, or feeling uncomfortable in your wardrobe it will translate to the final images. Wear your favorite rock tee, an oversized sweater, a leather jacket, or nothing at all. It's about you.
Do I have to be fully nude?
Nope! The session is about you. If you're not comfortable then we don't have to. It's always your choice. We can get amazing shots with just a hint of skin!
How long do albums take?
Depending on the printer but at least 7 days from the date I order it. Meaning, if you've done your shoot I will have your finals within the week. Then you select from an online gallery and I create the album. All in al figure 2 to 3 weeks to get an album.
What's the secret photo app?
The Secret Photo app is just as it sounds, an app you can send to your significant other that is "hidden" but contains your intimate photos! You can add this to any shoot for $250.
How many outfits do I get/bring?
Figure at least 20 minutes per outfit. So for a one-hour shoot, plan for 3-4 outfits. But, I suggest you bring ALL your options! We never know until the day of the shoot when we are in the space how an outfit will work. Maybe the color is off, or you're just not feeling it, then you'll be prepared with more options.
Can you suggest some outfit ideas for the shoot?
Go with what you know! Bring the colors that flatter you! Vivid and bold colors look fantastic on camera and against the skin. If you're wearing white, make sure you're tan. Avoid patterns because they vibrate on camera. Black is the ultimate go-to sexy shade. Anything that adds contrast to you will look great on camera. Think of an oversized knit blanket, a leather jacket, or a fur coat.
What do I bring?
Besides yourself, I suggest you bring all your outfit options! Before the shoot, we can go over your wardrobe and plan on what to shoot. PROPS! Bring props, keeping your hands busy makes you comfortable on camera and can show up who you are. Donuts? Pizza? Guitar? Pillow? Hats? Etc.
How do you suggest I prepare for my shoot?
Don't worry I will send you a guide before your shoot. Basically, you want to have your hair and nails done, get a wax if you need/want it, and make sure your feeling like your most pampered self. Try on your possible outfits and practice posing in them- no joke! This will get you feeling comfortable and confident when the actual days come. Avoid lots of sugar or alcohol as this leads to bloating and puffy skin! Think of it as an entire week of self-care leading up to your self-love experience.
What's your turnaround time like?
For just photos, I will have sneak peek photos ready within 24-48 hours and finals ready within 2-4 weeks. This depends on the time of year, and the volume of clients. For video expect to have the final film within 3-4 weeks.
BOOK NOW
Take the next step to empower yourself. By booking a Boudoir Session with Backlight you are allowing yourself to be seen and lifted up. This is going to be one of the BEST things you've ever done for yourself.
E-MAIL ME
[email protected]